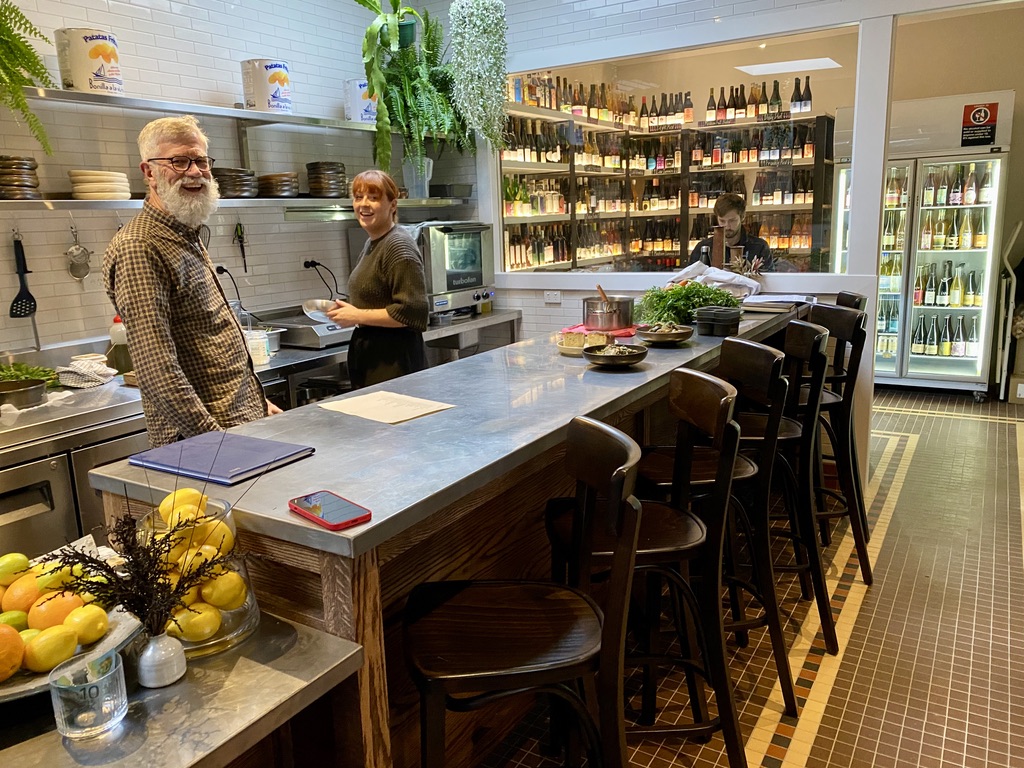 Frankie & Mo's Wine Shop and Bar (Lis Bastian)
By Lis Bastian
Supporting local growers to create agricultural systems that work with nature, not against it, is critical. Regenerative agriculture can contribute to reversing climate change, biodiversity loss and the risk of future disasters and consumers are increasingly aware that their choices can drive demand for food that's grown and produced more sustainably.
L-R: Tom and Bob Colman (Lis Bastian)
This month, father and son team Bob and Tom Colman launched Frankie & Mo's, a new Blackheath bar and bottle shop. It showcases natural wines, beers and spirits complemented by organically-grown sharing platters, sourced where possible from local growers. They're passionate about introducing people to the taste and health benefits of natural wines, and to how agriculture without herbicides and pesticides contributes to those health benefits.
"Once you start drinking wine with nothing added you discover it's more alive and invigorating," says Bob, drawing a parallel to drinking kombucha instead of soft drink. Tom points out that naturally fermented wines are generally lower in alcohol. He extends the kombucha analogy, explaining they are less sweet and better for your microbiome. "Your taste buds need to convert, but once they do it's difficult to go back."
Their de facto cellar-door tasting venue is modelled on the Parisian wine bars Bob loves. It interweaves the dreams and ambitions of both men. While Tom is now the main winemaker, he's happy that their wines still carry his father's name: 'Frankly this wine was made by Bob'.
frankly, bob made this (@phillipsage)
Together they're producing 20 different wines a year (blancs, roses, and reds) in the shed next to the family home in Blackheath. They're also transforming a 12 ½ acre industrialised vineyard in the Kanimbla Valley into a regenerative organic farm. It will see their 10,000 vines become an integral part of a healthy ecosystem: managed with sheep and touched, not by machines, but by human hands, 4-5 times in a growing season.
The vineyard (@phillipsage)
They acknowledge that growing organically is more difficult and labour intensive. On the other hand, an active and thoughtful relationship with nature leads to choices that allow the local ecosystem to support more life.
For Tom, a graduate of the Bachelor of Viticulture and Oenology at the University of Adelaide, changing our farming systems is their most important contribution. "If we can help create a market for natural wines, farming will follow," he says. To date there are a small number of organic growers in NSW, particularly for beers and spirits, but the Colmans are determined to grow the consumer demand to change this.
Fermenting chemical-free grapes without additives is a return to the way wine was traditionally produced for thousands of years before the industrialisation of agriculture. The use of chemicals for food growing and production has only gained dominance since WWll. Many of the pesticides introduced since then have already contributed to biodiversity decline globally.
After graduating, Tom travelled the world, volunteering in different parts of the farming and wine industry to become established in his trade and to explore regenerative agriculture as one solution for many of our global crises. A highlight was working as a herdsman at the organic Holden Farm Dairy in Wales, renowned for its Hafod cheese. Over two seasons, he observed the positive impact of farming regeneratively with animals. The farm worked in harmony with nature to produce food as a surplus from a healthy ecosystem, without diminishing the biodiversity, atmosphere or spirit of the place. The cows at Holden Farm were a much-loved part of the whole system.
The Colmans now use rotational cell grazing with sheep to help build soil and restore ecosystems in their own vineyard.
Frankie and Mo (supplied)
Frankie & Mo's is named after Bob and Tom's much-loved two dogs. It is located at 44 Govetts Leap Rd, Blackheath.
NB. Until more local organic growers and natural producers come on board, a small number of the natural beverages in the bottle shop at Frankie & Mo's will be imported.
The Wine Shop & Bar is located at 44 Govetts Leap Rd, Blackheath (Lis Bastian)
This story has been produced as part of a Bioregional Collaboration for Planetary Health and is supported by the Disaster Risk Reduction Fund (DRRF). The DRRF is jointly funded by the Australian and New South Wales governments.