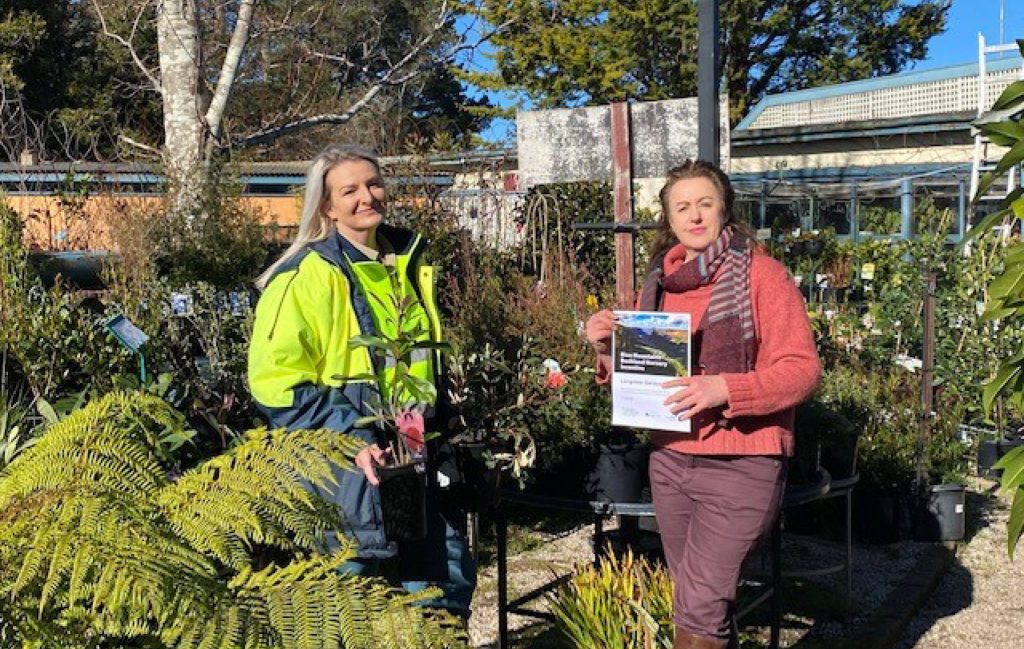 Blue Mountains Bushland Nursery Incentive is Blue Mountains City Council's free accreditation scheme to prevent the sale of invasive priority weeds within our Local Government Area and is supported by the Nursery & Garden Industry NSW & ACT.
An accreditation certificate is issued to local nurseries who do not stock or sell 'Local Priority Weeds'. When displayed these certificates assure customers whatever they purchase will be compliant with the Biosecurity Act 2015, which regulates invasive weed species in NSW.
Accreditation also acknowledges the nursery's awareness of our responsibilities as residents and businesses within a World Heritage Area and the need to control invasive species to protect this unique location.
Council encourages customers to ask nurseries if they are accredited and ethical when making their purchases.
Blue Mountains nurseries that have received accreditation to date are:
Birches of Leura, 2/156 Megalong Street, Leura
Bunnings Katoomba, Cnr of Wilson and Megalong Streets, Katoomba
Bunnings Valley Heights, 26 Great Western Highway, Valley Heights
Dillinger's Nursery, 2 Great Western Highway, Wentworth Falls
Glenbrook Village Nursery, 20 Ross Street, Glenbrook
Honey Gem Nursery, 151 Macquarie Street, Springwood
Long View Nursery, 29 Great Western Highway, Wentworth Falls
Mitre 10 Katoomba, 46 Wilson Street, Katoomba
Springwood Garden Centre, 216 Hawkesbury Road, Winmalee
Todarellos's Fruit House, 731 Great Western Highway, Faulconbridge
Weber's Nursery, 355 Great Western Highway, Blackheath
Mayor, Councillor Mark Greenhill, said; "Residents need to be aware that if priority weeds are discovered on their property Council has a duty, and the authority under the Biosecurity Act, to require them to remove or control these plants regardless of them being bought from a nursery. Equally, property owners have a biosecurity duty to address the risk posed by priority weeds to the environment by ensuring they are appropriately controlled and removed on their land.
"Council wants to assist residents and customers by making it easier to identify ethical nurseries. We are encouraging all our Blue Mountains' nurseries to take up this challenge to protect our World Heritage Wilderness from invasive plant species."
To learn more about the Blue Mountains Bushland Nursery Incentive and view a list of accredited nurseries please visit bmcc.nsw.gov.au/bushland-nursery
You can read more about Priority Weeds and your obligations under the Biosecurity Act at: bmcc.nsw.gov.au/weeds